On Board Facilities
MS Fram is specially built for comfortably sailing the remote waters of the Arctic and Antarctic, and you may enjoy her many services whilst she takes you close to nature and wildlife. Her style and interior materials are inspired by Scandinavia and Greenland. Onboard, she is like a floating gallery, holding traditional and modern artwork from a selection of Norwegian and Greenlandic artists.
Observation Lounge
Qilak means "sky" in Greenlandic, and the name of this lounge sets the standard. Here you will find large panoramic windows, ample comfortable seats and even a pair of binoculars so you can view the wildlife and details of the ever changing landscape. Qilak you also find the bar and the library.
Bar Service
The Observation Lounge bar design is inspired by the Inuit spearhead. Bartenders are on hand and ready to serve you your choice of drink before you settle down into one of the comfortable lounge chairs to view the majestic scenery.
Library
The ship has a small library with a selection of books and these are available to guests whilst on board free of charge. You may also borrow board games and puzzles.
The gym on board MS Fram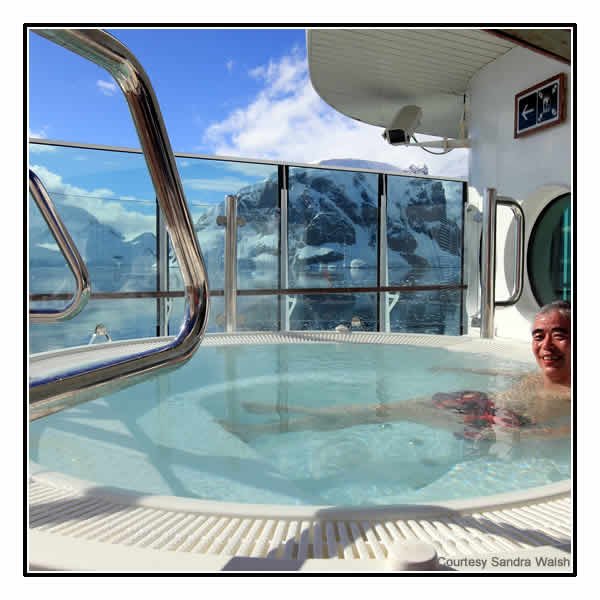 The on-deck Jacuzzi
Relax in the Observation Lounge
Fitness Room, Jacuzzi and Sauna
There could not be a better place to do some exercise than the MS Fram fitness room with fantastic panoramic ocean views. On deck 7 you will find the 'keep-fit area' which offers a well equipped and modern fitness room, a cosy sauna and outdoor Jacuzzi. We would certainly recommend taking a warm Jacuzzi whilst the Midnight Sun is shining, and icebergs are floating silently by the side of the ship, quite an experience!
Restaurant
The restaurant is named Imaq - the Greenlandic word for "ocean," offering scenic views from every table. At the far end of the restaurant is a balcony, an ideal place from which to take photos.
Shop
A limited assortment of warm clothes, traditional local souvenirs and quality handicrafts, as well as postcards and a variety of MS Fram effects are for sale in the on board shop. In addition it also stocks a small selection of toiletries and personal effects.
Information and Service
On deck 4, you will find the reception and expedition desk, where friendly staff are available to answer your questions. In this area, you will also find the internet café, the lobby with wireless access and the lecture rooms.
Outdoor Decks
MS Fram has spacious outdoor areas. Enjoy the views from the very front of the ship where there is a large viewing area or from the back on deck 7. Both are perfect vantage points to sit back, relax and watch the world go by.